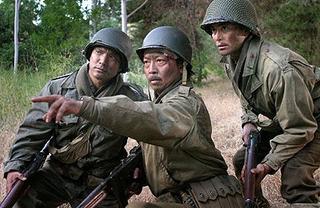 an asian-american production starring a who's who cast of asian-americans,
"only the brave"
tells the true story of a segregated japanese-american battalion who fought in world war two while their friends and family were interned. while the tale of the 442nd is powerful, the movie is a bit heavy on the sentimentality, and as a stand-alone film, it's a poor man's "saving private ryan." however, writer/star/director lane nishikawa's passion cannot be denied.
we got to see tamlyn tomita of joy luck club and karate kid two fame. along with jason scott lee (dragon, jungle book), mark dacascos (crow, iron chef, brotherhood of the wolf), and the ultimate sighting,
yuji okumoto
. you know, the bad guy from karate kid two.